Watch: Tender Moment When 84yo Woman Beams After Receiving Candy From Her 107yo Mum
Like us on Facebook for great stories daily!
Listen to this post:
A mother's love is worth more than anything in the world, and it often lasts a lifetime as many of us will surely know. If you don't believe us, then this story reported by Sin Chew Daily is sure to warm your heart and maybe prickle your eyes with tears!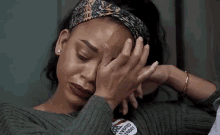 One man from the Henan Province in China had recently taken his 107-year-old (yes, you heard right, 107) grandmother to the wedding of a friend's daughter, which is a pretty wonderful gesture in itself. The old lady even offered to pay a wedding ang pow (lucky packet) of one Yuan, saying "If I go to a wedding banquet, I must give a token in exchange."
And as is customary with many weddings of different cultures, they were given a gift for attending the wedding banquet, in this case, candy.  But instead of unwrapping the candy to enjoy after the lavish dinner, the 107-year-old grandmother decided to keep it in her pocket for the car ride home. Why you ask?
"There were candies left on the table for the wedding guests, and she took one to keep in her pocket. When we got home, she then offered the candy to her eldest daughter.", her grandson said.
Now bear in mind, her eldest daughter is already 84-years-old herself. But as we said before, a mother's love is eternal and when she was offered the candy, the 84-year-old woman's face lit up immediately with the biggest, brightest smile.
"When she gave it to my aunt, my aunt was beaming with a smile. It's like how children smile when they are offered candy."

"She may be 84-years-old, but in the eyes of her mother she will always be her little girl."
The video, which was uploaded on social media, has gone viral with many netizens saying how lucky the 84-year-old woman is to still have her mother around at her age. We admit, we're jealous too!
That story definitely put a smile on our faces! Remember everyone, always take a moment to cherish your parents while they're still around! brb I'm going to go call my mum too.
Also read: Kelantan Woman Gifts Husband Brand New AUDI After Selling Chickens For 8 Years Together
Like us on Facebook for great stories daily!