Top 8 Extraordinary Superpowers Malaysians Wish They Had
Forget superhuman strength, that's boring! There are a bunch of other superpowers we've all probably secretly wished we possessed once before. Superpowers can help us to not only save the world, but make our lives so much more easier and convenient too! Especially the ones portrayed in the upcoming movie Dark Tower, which we'll mention about more at the end of this article!
Anyway, here are some of the coolest superpowers I'm sure you probably wish you had once before:
1. To be invisible
We've all wanted to just disappear from the face of this earth once before because of some insanely humiliating event or maybe we got into trouble for something. Either way, to be able to just become invisible could come in handy. We could sneak into the kitchen and steal some cookies or even sneak our way into movie theaters!
2. Awesome mind control
You could easily get your siblings to make you a sandwich, get a raise from your boss, or even get the smartest student in your class to complete your assignments for you. Oh, the things we could accomplish.
3. Becoming a powerful sorcerer like the Man in Black from The Dark Tower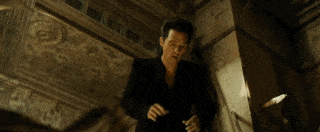 If you've read Stephen King's book 'The Dark Tower', you probably wished you could be a powerful sorcerer with supernatural, dark magic abilities that involves prophecy, necromancy where we can summon spirits or even influence animal and human behaviour. Sounds pretty dark, but imagine how bad ass and powerful we'd be. Chicks dig that stuff.
4. The power of Mimicry
This is basically the ability to copy or duplicate a skill someone else possesses. Meaning you could easily be the next best swimmer like Michael Phelps, or the fastest runner like Usain Bolt, or maybe even be a genius like Albert Einstein! All in the blink of an eye. Talk about being a jack of all trades!
5. Ability to bend time and space
As kids, or even adults, we've all probably done something we wish we could undo, relive a special moment in our lives, stopping ourselves from giving our crush that embarrassing love letter, or teleport to a different place or time. Think about it, you could go back in time to finish your homework and avoid getting rotan by your teacher or teleport yourself to school or your office whenever you're running late. Talk about saving petrol!
6. The ability to fly
Childhood shows like Peter Pan probably made us wish we could actually fly. To be able to jump out a window and not worry about hitting the ground, that's the life. We could even fly to our destination and avoid traffic jams!
7. Telepathy
The ability to read other people's minds, that'd be pretty sick. You can know what the other person is actually thinking when you ask questions like "does this dress make me look fat?" or "do I look good in this?".
You could even check to see what your boyfriend or girlfriend was actually thinking. Jeng jeng jeng!
8. Enhanced gunmanship like the very macho Gunslinger, Roland Deschain
To be highly proficient in handling a gun and never missing a shot, we'd be pretty bad ass. Can you imagine always hitting the target exactly where we want to and being able to operate all variation of guns? Practically a lot like the gunslinger–Roland Deschain–from the upcoming film 'The Dark Tower'.
Based on a book by Stephen King, this epic tale revolves around Deschain, a Gunslinger who lives in a world called Mid-World, which runs parallel to ours. In that world is a Dark Tower that serves as the centre of all universes, including our own world. However, Mid-World has begun to fall apart and, in an effort to save it, Deschain must defeat the evil Man in Black.
This is definitely something you should watch, especially if you enjoy action and adventure and lots of fire power.
Releasing in cinemas all over Malaysia on 3rd August, The Dark Tower is a show not to be missed! So, mark your calendars and get ready to catch this epic battle between the Gunslinger and the Man in Black! No doubt, you'll want to handle a gun just like he does.
Watch how cool he is in the trailer below:
Find out more about Sony Pictures here!