6 Horrible Car Breakdown Situations You'll See Whenever You Balik Kampung
It's the Raya celebrations, and that means open houses, Duit Raya and meeting relatives! When that happens, we know how the highways are always extra congested with people heading back to their kampungs to celebrate with family and then travelling back again after the celebrations. Just thinking about the traffic makes one wary about the roadtrip.
With bad traffic and long driving hours comes a greater possibility of facing a car breakdown. We've all probably seen cars stalled at the side of highways at least once in our lives. The driver and the passengers look miserable and you thought to yourself "nasib baik that isn't me".
Unfortunately, car breakdowns can happen to anyone and any car, at any time. Here are some of the worst car breakdown situations that you wish will never happen to you while travelling during Raya:
1. Lone driver stuck in a secluded area

Source: Pixabay
Being alone and getting stranded in the middle of the road is terrifying! What's worse is if it happens at a rather secluded area and you have no idea what to do.
2. Family with little ones under the scorching Sun
It's bad when your car breaks down in the middle of the road; it's even worse when it's one of those scorching hot days. However, the absolute worst is when you have kids who can't tolerate the heat for very long.
3. Bad weather on a busy road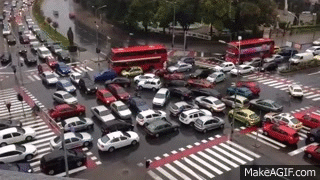 Your car stalling at the worst possible moment and causing a massive traffic jam. What about if it's raining? Do you wait in the stuffy car or get soaked outside? Either way lots of angry drivers will be giving you grief. Now that's a real bummer if you're planning have a family reunion on time, or when you're eagerly heading home after visiting friends and relatives the whole day.
4. Helpless drivers and passengers who get bullied by roadside touts
When your car breaks down by the side of the road, you'd find yourself stressing out and desperate for someone to help you. This is when a lot of the infamous tow truck scams happen. You become so intimidated that you decide to let them tow your car while you end up having to pay an exorbitant amount.
5. Driver with a flat tyre but has no spare tyre or tools in the trunk to replace it with
For most who've faced a flat tyre before, it's no big deal especially if you have a spare and the right tools in the trunk; but if you don't, you end up by the side of the road, hopelessly waiting for someone to come to your rescue.
6. Floods

Source: iWeb.ph
It's bad when it starts to rain, but flooding is a whole other issue altogether. You can still drive under a heavy downpour, but if it floods, you won't be able to move even if you wanted to, unless you drive a submarine. If flood water gets into your engine, your car is as good as gone! That's especially unfortunate when you have friends and family waiting for you, but you have no idea what you can do nor how long it'll take before you can move on with your journey.
Now, imagine these scenarios happening to you during Raya. All of a sudden, your car breaks down, or mother nature gets in the way; not only are you stuck, but you're holding up traffic while your family waits in the car with probably no air conditioning. Also, the longer you're stuck, the worse your mood for the holidays become. You'll also have lesser time to spend with them and that's going to increase stress; or worst comes to worst, you may have to trouble your relatives to drive out and pick you up to get your car fixed. This is not only time consuming but incredibly troublesome.
That is why, make sure you have a trusted insurance company for your car to be there for you when you need it most! Allianz is here to help solve all your problems. Sign up for the Enhanced Road Warrior program and expect bigger coverages and wider services for you and your precious car!
Be prepared for any car breakdown and avoid being like the kesian ones you usually spot stranded by the roadside. Also, remember that it's not just when you balik kampung or when you're visiting relatives this Raya, these situations can happen anytime at all!
Find out more about the Enhanced Road Warrior program here!